ELECTROSTATIC SPRAYERS
HAND-HELD CORDLESS SPRAYER
Eliminates the hassle of dragging cord
Electric charge provides even and effective coverage
Tank Capacity: 33.8 oz
Average Coverage Per Tank: 2,800 Sq Ft (On 40 Micron Setting)
Battery Life: 4 hours of continuous spraying
Charge Time: 90 Minutes
Flow Rate: 40 micron / 3.1 oz per minute, 80 micron / 3.8 oz per minute, 110 micron /10.5 oz per minute.
Sprayer Weight: 5.9 lbs (full of solution)
Warranty: 1-year limited warranty
PART NO: CHS-1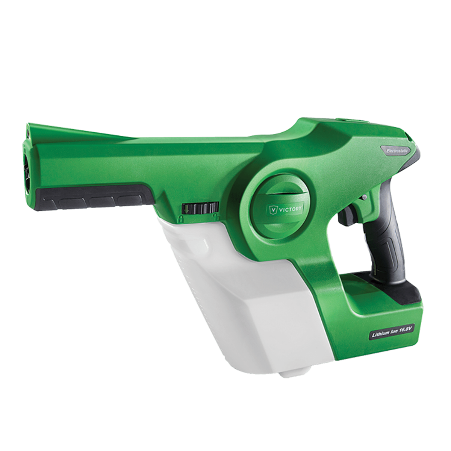 CORDLESS BACKPACK SPRAYER
Tank Capacity: 8.5 Liters (2.2 gallons)
Average Coverage Per Tank: 23,000 Sq Ft (On 40 Micron Setting)
Battery Life: 4 hours of continuous spraying
Charge Time: 90 Minutes
Flow Rate: 40 micron / 3.4 oz per minute, 80 micron / 5.1 oz per minute, 110 micron/13.4 oz per minute.
Sprayer Weight: 29 lbs (full of solution)
Warranty: 1-year limited warranty
PART NO: CBS-1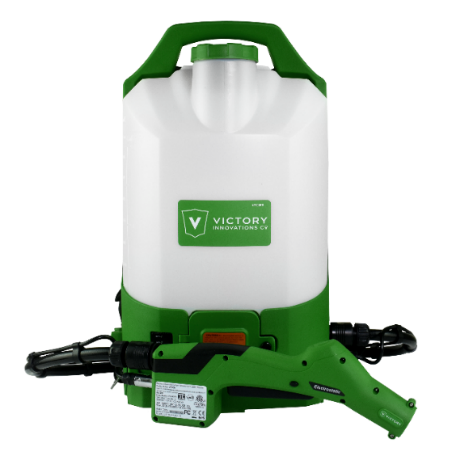 FOGGER
Adjustable output of 1.5 – 14 gallons per hour
Includes large commercial coiled hose for directing ULV chemical mist
Operates on 110V AC power
Lightweight, 2-gallon translucent poly tank
Outputs 22-46 microns particle size — average droplet 20 microns
Sprays 13.5 feet
Includes carrying strap, for portable use
PART NO: FG1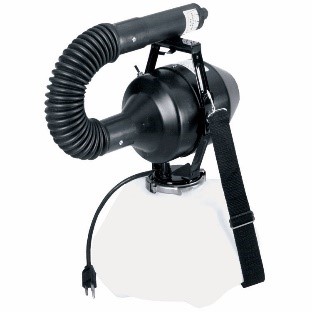 ACCESSORIES FOR ELECTROSTATIC SPRAYERS
VP30 33.8oz TANK WITH CAP
The Victory Handheld Sprayer Tank is made of High-Density Poly Propylene to resist chemical degradation. It comes with a molded-on rubber gasket and a sealing cap to prevent leakage.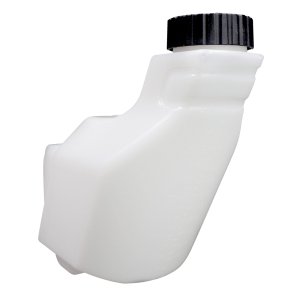 VP20B 16.8V LITHIUM-ION 2X REPLACEMENT BATTERY
This high capacity Victory Lithium-Ion Battery delivers up to 2x the runtime than the standard VP20 Victory battery. Victory delivers 8 hours of runtime and can be recharged up to 800 times.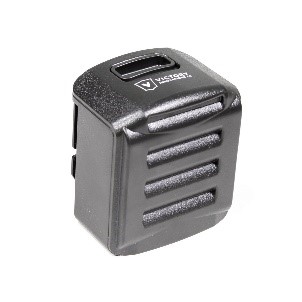 vp72 EXTENSION WAND (12″), VP74 EXTENSION WAND (24″)
The Victory Extension Wand is built to give both the Handheld Sprayer (VP200ES) and Backpack Sprayer (VP300ES) extra reach. The wand is built out of non-conductive, non-corrosive materials and accepts all Victory spray nozzles including our standard VP50 3-in-1 nozzle. Nozzle not included.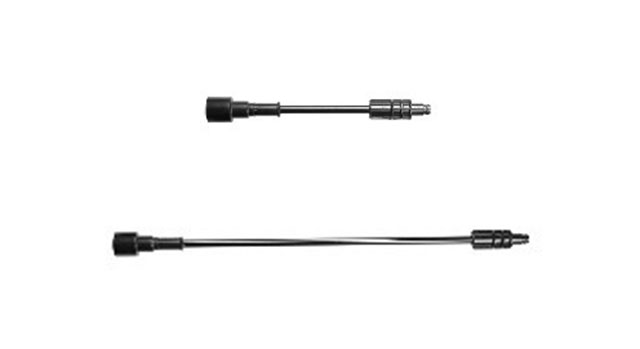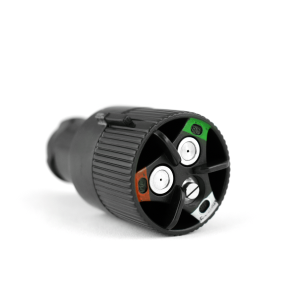 THE VICTORY VP49 NOZZLE WRENCH
The Victory VP49 Nozzle Wrench is designed to remove the nozzles on handheld or backpack sprayers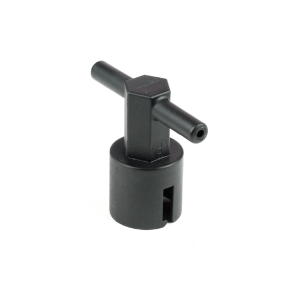 VP31 2.25 Gallon Tank With Cap
The Victory Backpack Sprayer Tank is made of High-Density PolyPropylene to resist chemical degradation. It has a maximum capacity of 2.25 gallons.
VP91 Carry Strap
This Ballistic Nylon Carry Strap was designed to allow the handheld spray operator to free up both hands while keeping the sprayer within reach. The bungee extension cord allows the operator to retain full mobility while using the cordless handheld sprayer.